It's Monday! What are you reading? is a weekly book meme hosted by Book Journey.
I'm not sure how much reading I'll get done as it's finals week. I'm taking a college math class in pursuit of a bachelor's degree. I've been doing pretty well and would love to be able to earn a 'B' in this class. And believe me, given my math avoidance, a 'B' is an outstanding grade for me.
This week I'm still reading an audio book by Nora Roberts. Between finals, holiday parties at work, end of year meetings, I've hardly had time to read. But now that I'm on my Christmas vacation, I should have more than enough time to finish this audio book.
Whiskey Beach by Nora Roberts
Audio CD, Unabridged
Published April 16th 2013 by Brilliance Audio
Publisher's summary: For more than three hundred years, Bluff House has sat above Whiskey Beach, guarding its shore — and its secrets.
To summer tourists, it's the crown jewel of the town's stunning scenery. To the residents of Whiskey Beach, it's landmark and legend. To Eli Landon, it's home. . . .
A Boston lawyer, Eli has weathered an intense year of public scrutiny and police investigation after being accused of murdering his soon-to-be ex-wife. And though there was never enough evidence to have him arrested, his reputation is in tatters as well as his soul. He needs sanctuary. He needs Bluff House.
While Eli's beloved grandmother is in Boston, recuperating from a nasty fall, Abra Walsh has cared for Bluff House, among her other jobs as yoga instructor, jewelry maker, and massage therapist. She is a woman with an open heart and a wide embrace, and no one is safe from her special, some would say overbearing, brand of nurturing — including Eli.
He begins to count on Abra for far more than her cooking, cleaning, and massage skills, and starts to feel less like a victim — and more like the kind of man who can finally solve the murder of his wife and clear his name. But Bluff House's many mysteries are a siren song to someone intent on destroying Eli and reaping the rewards. He and Abra will become entangled in a centuries-old net of rumors and half-truths that could pull them under the thunderous waters of Whiskey Beach. . . .
---
I'm also reading another by Nora Roberts, or rather, her alter ego, J.D. Robb.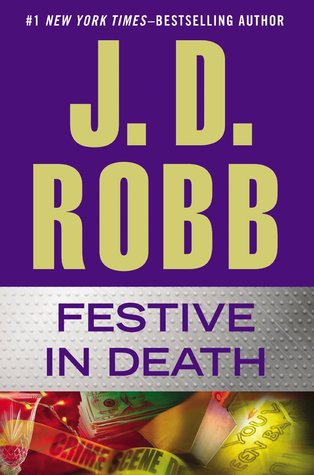 Festive in Death by J.D. Robb.
Kindle Edition, 352 pages
Published September 9th 2014 by Piatkus
Publisher's Summary: The kitchen knife jammed into his cold heart pinned a cardboard sign to his well-toned chest. It read: Santa Says You've Been Bad!!! Ho, Ho, Ho!
It's Christmas, but Lieutenant Eve Dallas is in no mood to celebrate. While her charismatic husband Roarke plans a huge, glittering party, Eve has murder on her mind.
The victim – personal trainer Trey Ziegler – was trouble in life and is causing even more problems in death. Vain, unfaithful and vindictive, Trey had cultivated a lot of enemies. Which means Eve has a lot of potential suspects. And when she and Detective Peabody uncover Trey's sinister secret, the case takes a deadly turn.
Christmas may be a festival of light, but Eve and Roarke will be forced once more down a very dark path in their hunt for the truth.