Well, it's been one hell of a week. Busy, busy, busy!
Life: Work is in full swing for preparing for American Libraries Association (ALA). And then they added another project for me to work on before I leave for ALA this Friday. Ugh!
I had a paper due in my class. Ugh! I didn't think I did well. This professor isn't as helpful as previous professors that I've had. I'm a student, I don't know what information should be included. An example (at least a partial) of the paper would have been nice. So I'm going to include that in my evaluation of the course.
And to top of my week, my daughter had a temperature and was vomiting yesterday, the day my paper was due. My assignment was more complete than not, so I'm pretty sure that I'm not going to get a good grade on my first assignment. But my daughter comes first and I have enough time to make up for that grade. And I'll work on my next paper on my flight to Chicago.
Reading: I did manage to finish one of my audio books, Die Again by Tess Gerritsen, during my daily commute. I really enjoyed the book. I'm not really an audio book reviewer, but I thought the story was good as well as the narration.
I started the Poisonwood Bible by Barbara Kingsolver. I'm having a little bit of a hard time getting into this book. I always feel like something is wrong with me when I don't enjoy an award-winning book. So I'm going to put it down for now and try again later in the year. I may have another trip to ALA annual in June so I'll try it again then.
So what am I reading this week?
I'm finishing up Ignite by Sara B. Lawson. I'm only listening to Ignite while I'm at work. And I think I only have 20 minutes left in that book.
And I'm also reading Stolen. I've started it already, but I'll probably read most of it on my flight to Chicago.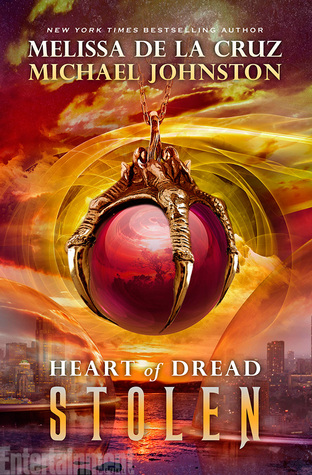 Stolen by Melissa de la Cruz and Michael Johnston
ebook, 336 pages
Published November 18th 2014 by Penguin Young Readers Group
Publisher summary: Who is Eliza Wesson?
Months after Nat and Wes said good-bye on the shores of the Blue, Nat is learning how to control and use her new power. She and her drakon are the last of their kind—and she's risked her life for their reunion. When she receives a mysterious distress call, she races to help, soliciting the guidance of her new friend, the beautiful and aloof Faix Lazaved of the Blue.
Still heartbroken over losing Nat, Wes is racing cars on a New Vegas racetrack while his team is scattered and lost. When he finds out that his sister, Eliza, is being held in the golden domes of El Dorado, he does what he's best at—running to her side—and gambles on luck to see him through one more time.
Magic, romance, and danger collide as Nat and Wes become entangled in a dark new adventure that leads right to the heart of the mystery of their frozen, broken world. They soon discover that the answer to both their quests lies in the same question: Who is Eliza Wesson—what is she capable of, and why was she stolen from her family so long ago?
What are you reading this week?